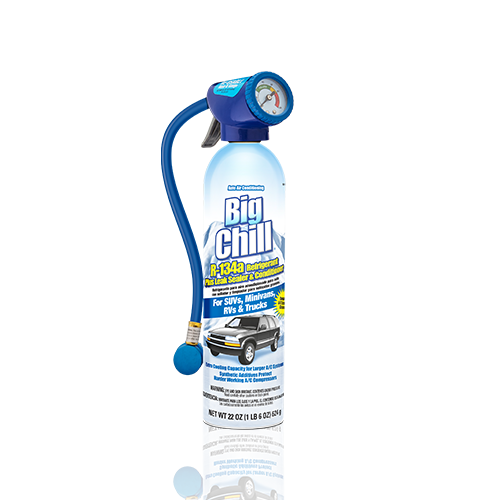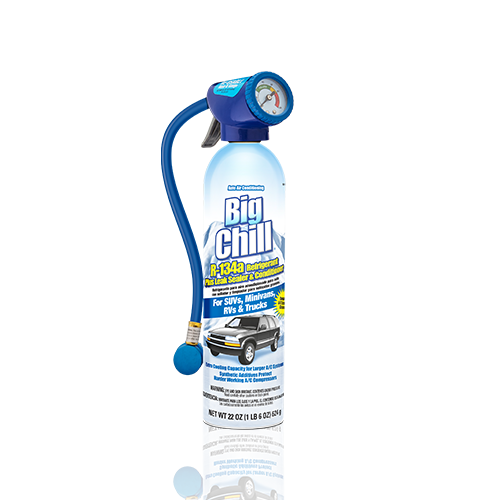 BC-1 | Big Chill® R-134a Refrigerant
BC1 | Big Chill Large System R-134a AC Recharge Kit for Large Cars
01618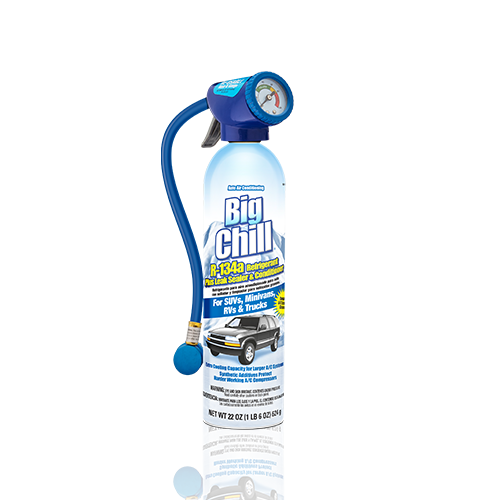 Product Features
Contains approximately 19 oz. of R-134a and 3 oz. of additives
Provides more R-134a charge for larger A/C systems to restore cooling capacity
Contains leak sealer to seal common A/C leaks in rubber hoses, gaskets, and O-rings
Contains synthetic additives to protect hardworking compressors
Comes with reusable charging hose and gauge with trigger dispenser for fast and accurate recharging
Product Description
Big Chill® R-134a Refrigerant Plus Leak Sealer & Conditioner replaces lost refrigerant and oil in larger capacity A/C systems. Big Chill® is specially formulated to meet the special needs of SUVs, larger trucks, and minivans. The trigger dispenser and measuring gauge make filling your system to the proper level fast and easy.
Usage Directions
Shake can well. Start engine and set A/C to MAX COOL.
Following the instructions on the recharge hose, connect recharge hose to can and vehicle A/C low-side service port.
While charging, rotate can between 12 o'clock and 3 o'clock every two to three seconds while continually agitating (shaking) the can back and forth.
Continue this process until the correct amount of refrigerant is charged into the A/C system or the can is empty (five to 15 minutes).
When the can feels empty, hold it upside down for one minute to dispense remaining contents before removing from service port. DO NOT OVERCHARGE SYSTEM!
Available Size
22 oz.
Warning
: Cancer and Reproductive Harm - www.P65Warnings.ca.gov